4 IMPORTANT THINGS NOT TO PACK WHEN MOVING
July 8, 2019
Are you relocating to your new home and have a lot of packing to do?
Don't just throw in every item you see in the packing box!

There are some items which you cannot move through the removalists and there are a few things that you absolutely shouldn't move at all due to safety measures.

Confused about what to do?

Here is a simple list of things that you shouldn't pack and guide about what you need to do with them.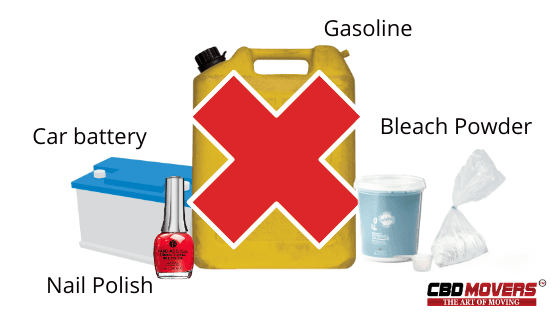 You may think of repacking that remaining bleach and ammonia you used to take to your new home. But that's a big 'no'.
It is not advisable to take hazardous materials through transportation. Some chemicals may react or burst when it is kept in tight and closed places and this may result in heavy injury.
Hazardous materials mean every combustible, explosive or corrosive liquid that you use around the house.
Here is a list of few hazardous items that you should never pack.
#1 Aerosols
#2 Motor oil
#3 Ammonia
#4 Bleach
#5 Lighters
#6 Car batteries
#7 Pesticides and fertilizers
#8 Fireworks
#9 Gasoline, kerosene and any other petroleum products
#10 Nail polish and nail polish remover
Any other similar item that comes within a close category of these materials also shouldn't be packed and transported for the safety of your other things and the people near them.
If you are ever doubtful about whether you can move a certain item or not, it is best to contact the removal services to get it cleared by them.

When disposing of all these items, contact the local waste management team and get guidance from them to do it the right way.
You may be one of those who does not like to waste any food but transporting such perishable foods will only result in more damage to your items nearby. Refrain from packing any of the items you generally keep in the refrigerator like milk, cheese, butter, vegetables, fruits, sauce, etc, anything that might attract germs or insects.
Also, refrain from packing liquid items that are already opened like oils.

Packing such perishable items inside the boxes can result in any spillage especially the liquid items in closed and tight containers. This could spoil all the items you had kept in the box and maybe the nearby boxes spoiling a lot of items at the end.

In case if you do not want to waste your food, you need to start planning at least a week ahead.
Stop going to the supermarket and try to use as many items as you can from your home to cook daily.
If you still have some food remaining even at the end of the week, you can always use them for preparing dinner and inviting all your friends a few days before your move.
This will help you consume most of the perishable items and the remnants you have can be given to someone else or disposed of.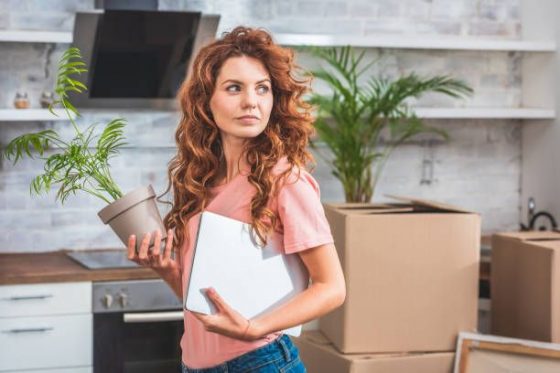 If you are relocating to a far off place that requires a lot of time in transportation, then it is not advisable to relocate your plants in the truck.
Also, some states may not allow transporting plants across borders and therefore, you need to check with them before you decide.

It is best to ask your removalists directly if they can relocate plants and even before that, please consider the duration of transportation as the plants may have to be kept in a dark and dingy place without sunlight for a very long time.
Valuable and Important Things
Your important items like medical documents, government proof, degree certificates, passports, bank documents and any other valuable papers that may be of use shouldn't be packed and sent with the removalists.
It is better to pack them securely in proper files and have them with you when you move.

Some other important items like family heirlooms, pricey jewellery, money, credit cards and such can be carried with you.
Also, do not send in important gadgets that can be carried by you like laptops, watches, tablets, etc.

Plan your hand luggage in advance and ensure that you make space for all these important items.
The safety of all your things banks a lot on the removalists you hire.
If you want a reliable and experienced Perth removalist who knows their job inside out, then Contact CBD Movers Perth for your next relocation.
Suggestion Reading:
TIPS TO DOWNSIZE YOUR HOME BEFORE MOVING
CBD Movers Perth Rating