EFFECTIVE PACKING FOR EASY MOVING
January 23, 2019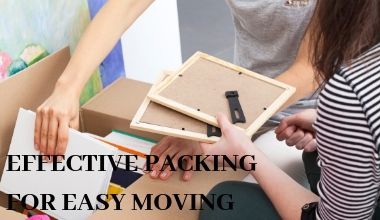 Packing and moving is a quite an overwhelming task.
The job transfer and the impending move can actually turn your world upside down.
But don't despair! Take a look at all the resources around you and start packing.
Good Removalists Company Perth offer much more than just trucks!
The actual move can come with sharp turns, bumps, and relentless rumbling, but professional help can prevent the damage of property during the move.
Here is a list of packing techniques and supplies for effective packing of household belongings:
Furniture: Dealing with heavy furniture is the trickiest.
You may need to dismantle furniture for a safe transit.
Cover it with packing material and old clothes for safety.
If you have high value furniture pieces, hire professional furniture movers to safeguard your expensive belongings.
Clothes: Use big cartons customized with the provision of hanging clothes.
Cover delicate garments with plastic covers and hang them safely. Fold other clothes and place them safely inside boxes.
Pack seasonal wear separately.
Fragile: Each item needs to be packed deftly.
Wrap them up with newspapers or bubble wrap and place them in customized crates.
Decorative Items: Use proper packing supplies.
Drape them in multiple layers.
Transport them in a strong, well-built box.
Fill up void spaces, if any, with bubble paper.
Books: Place them in boxes and fill spaces with packing paper.
Do not over fill or under fill the boxes.
Cycles and carriages: Consider disassembling.
Wrap them nicely with plastic paper to prevent scratches.
Chairs & Tables: Cover the legs and protect the edges by placing safe cushioning.
To protect upholstery from scratches, dust, use a stretch wrap.
Valuables: It is viable to carry valuables in a small box and keep the stuff in your possession. Do not leave valuables with movers.
Flammables: It's best to dispose them off before the travel. Do not carry them.
Electronics: Use close wrapping to protect the gadget. Pack the TV screen properly and pay attention to edges.
Fill any airspace with rough paper and bubble wrap.
At CBD Movers Perth, we work hard to provide safety to all your belongings.
From heavy furniture, clothes to gigantic pianos and heavy couches, we pack and move everything.
We adopt latest moving techniques and packing supplies to ensure safe and hassle-free move.
Call us now on 1300223668 to know more about our deals and services.
CBD Movers Perth Rating