REMOVALISTS PERTH – GUIDELINES FOR MOVING BIG SCREEN TV
January 23, 2019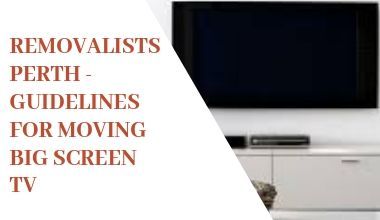 Gone are the days when only a few could afford a television.
In fact, today every second person owns a television screen that too big TV screens.
LEDs, LCDs and a range of technological advancements have taken a center stage.
But when it comes to house moving, these items are the most critical ones to handle.
Any drop, jerk or mishandling is bound to damage the big screens if they are not adequately packed and protected.
Here are comprehensive guidelines formed and followed by expert removalists Perth that will clearly help you pack and move your big screens with competence.
1. Disconnect completely
The first step towards effective packing is to disconnect the gadget completely.
Do not just disconnect it from the power supply points but also ensure that you have removed the pen drive, memory chips, and all other connecting leads and wires.
Before packing the wires separately label them with color codes. This will allow easy recognition during installation at the new home.
2. Robust Packing Material
Effective packing is the only way to move big screen TVs successfully. Ensure that you use the best packing materials that can withstand the jerks and jolts of loading, unloading, and moving.
Though it is best to pack the screens in original boxes and wrapping, if not retained use thermal sheets and bubble wrap for best results.
As one of the best cheap removalists Perth, we provide the best packing supplies at the cheapest rates, thus helping you stay within your moving budget.
3. Effective Packing Technique
Pick up a box that measures just right for the screen.
Do not go in for oversized boxes as they will not secure the screen properly. Double protect the screen side and corners with layers of thermal sheets. Tape the box well and mark 'Fragile' and 'This side up' on the box cover. These coding will help the moving crew to practice adequate protection while moving the box.
Every small step helps in safeguarding your priced belongings.
Make sure that you retain guarantee card/warranty card provided to you at the time of purchase.
In case your device mentions any other safety requirement in its user manual, follow it.
Avoid cheap movers Perth who offer compromised services at cheap rates. Instead, compare removal quotes and pick Cheap Removalists Perth who provide the best services at lowest rates. After all, you've spent a fortune for your BIG screen.
CBD Movers Perth Rating