WHAT TO CONSIDER WHEN RELOCATING?
January 23, 2019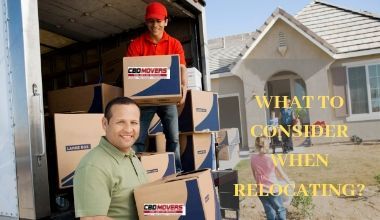 Moving to a new house is a big step. You are going to a new place for a new life and a fresh beginning.
But before that, you have to accomplish an important task of moving all the goods and furniture to your new house.
Most of us start looking for a truck once they decide to move.

The first question must be popping in your mind must be 'what size moving truck do I need?'.
To get the perfect answer to this question, you first have to calculate the volume occupied by your own goods.
By assessing this, you will be able to pack the hired truck properly and efficiently.
It is very simple.
First, go online and read about the trucks available in your area.
The listing websites for trucks have trucks with different capacities.

Online forums for moving and packing also answers your questions such as 'what size moving truck you need?'.
Members here will start a reply to your thread in the forum once you post it. Just give it two days or so.
Meanwhile, you can start assessing the situation of your goods.
To get the exact volume, start from large and heavy goods first.
This will include a fridge, sofa, table set, and chairs.
These items are supposedly very heavy and should be on the priority list for transportation.
It also makes you understand what size of boxes you need to pack heavy goods.
No need to buy extra bubble wraps and padding.
Use old pillows and blankets as padding here.

Some accessories and stationaries are must buy when you decide to move. Buy duct tape, straps, multiple boxes, and dollies.
This makes your moving efficient and you can occupy maximum space in the truck.
Everybody has different moving requirements.
So the answer to the question 'what size truck do I need to move will be different for everyone.'
Movers and packer services offer different types of trucks as per everybody's need and budget.
Taking the assistance of professionals may require in some cases as just renting truck and driving won't be enough.
Removalists in Perth understand the need of each family while moving out. They visit your home before the date of moving out and asses the requirements.
You have to pay just exactly for what you use.
The estimated costs for moving given by these professionals will be based on factors such as distance between old and new home, a number of goods you have any special arrangements for luggage if any.

The concept of self-service moving is getting popular where you just have to pay the rent of the vehicle and gas required.
This option is known as most cost-efficient moving.
This works best for customers who don't want somebody else to handle their precious goods.
The duration of the moving will totally depend on you so forget about unexpected delays caused by the moving company.
This is a very simplified approach to moving where you pack, load and deliver your stuff at own pace.
Once the truck rent is paid for a few days, you can make multiple rides from your home to a destination.
CBD Movers Perth Rating