BEST CHEAP REMOVALISTS PERTH
January 23, 2019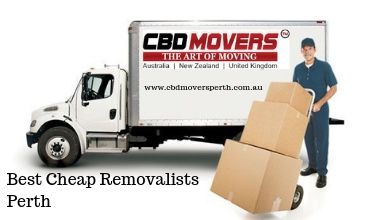 How cheap removalists can help you relocate at budget prices?
Cheap Removalists Perth– a commonly heard term that is often misunderstood to being of low-quality removal services.
The services of a moving company, called as removalists, is to help the people or businesses, or company owners to relocate their entire profession from one part of the city to another.
The entire process takes place through a team of professional movers and van so that all the essential items are being shipped to the ultimate destination without any damage or manual labor.
These services also make use of containers and shipping items that are necessary for regular shipping.
Moving companies are often found in almost all cities and towns of Australia.
One of the hottest markets to avail cheap removalists Perth, house movers Perth, office relocation Perth is also there.
The companies like CBD Movers who have been rendering these services for long often provides support for small as well as big sized relocations.
A reputed company needs to obtain a license according to regulations from the particular territory.
Looking for cheap removalists Perth requires you to think over a lot of topics and factors.
One of the misunderstandings that lie amongst the people is that they consider cheap furniture removalists synonymous to low-quality removals. Why you must choose cheap removalists irrespective of all the fears and why to select cheap removalists' not expensive removalists, here is a small insight to this:
If you are renting a truck from moving company then most probably, if you have hired reputed services for rental then they will essentially provide you with short time training on using those equipment, vehicles or other stuff. Some companies even provide you with cheap packages to provide you the packing and uploading services for the entire household or company.
The cost of removals is totally dependent on the extent to which you require the services.
There are several moving companies and finding cheap removals is not a hard task these days.
Whether you want removals for short term distance or long term movements, the entire cost usually depends on the number of hours it will take to relocate, the amount of distance needs to be covered, and sometimes the level of services you want.
Majorly the companies are charging in flat rate hours.
A number of items, the size and the weight of the items are also an important factor.
CHEAP NO LONGER MEANS INFERIOR QUALITY
Whether furniture removals or office removals, the industry is highly competitive these days and that's why a number of companies are offering reliable and reasonable prices quotes to compete with other businesses and loyalties.
This clearly means that professional services are just getting cheaper and the future is bright for the customers.
No more you need to substitute the high-quality services for high prices as the complementary features are now coming in a single package.
You need to perform some good research and collect the quotes from 2 to 3 vendors in order to get the right company.
SOME SERVICES ARE CHEAPER CAUSE OF THEIR SPEED
If your removals and shifting are done in small time then no doubts the entire package of removals is not going to cost you a hefty amount.
For instance, there are companies that ask you to pay them on per minute basis rather than hours.
This means you will stop paying the minute they have unloaded the time instead of the entire hour of the moment.
You are not going to pay any unwanted charges for an extra ten minutes or a half hour while they were unloading.
As soon as they are done, they will make the bill and hand it over to you and thus, paying less for being faster yet careful services.
A MULTITUDE OF SERVICES IN THE MARKET
As we said, the larger the competition, the higher the number of companies lining up to provide you services.
Does not matter whether you are going to move the entire house or a single heavier item, there are several companies brimming and budding in the market.
Now you have the option to choose amongst the affordable services that will provide you with flexible working, exceptional services, and affordable packages.
It's not that all of the companies will provide cheap removal services without compromising on the quality factor.
It is important to collect all the essential information during the research.
It is not easier to hire company as most of them are available online and provide the customers with user experience.
Get a few quotes, sit down, and decide which company has the services you need.
More often than not, all it takes is a simple Internet search.
CBD Movers are a live example of those companies who offer affordable prices along with the most reasonable and quality services.
CBD Movers Perth Rating