FAQ FOR FURNITURE REMOVALISTS PERTH
January 23, 2019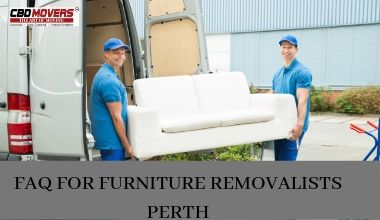 Will the cheap removalists perth dismantle and reassemble my furniture?
Most of the items being shifted are safer is they are flat packed and it will also help to save space, which means saving of money. If you wish to get your furniture dismantled then the company will do and in case the size of the furniture is quite large then also they will dismantle the furniture and then reassemble at the destination.
Do removalists require a deposit?
Irrespective of the company you choose, a deposit is the most fundamental element that is required to confirm your booking. This is an indicator that you have booked your services and ready to pay the rest of the amount.
How will a customer know how much space or vehicle they will need?
When you get the quotes from the services, you will be asked how much space or vehicles you will need. While some people have a fair idea of how much vehicles they need. In case, you are not sure, you can describe the items you want to get shifted to the cheap furniture removalists Perth. Else you can measure items by yourself to get an idea. Please do not measure every item with a tape measure as this will not give you a correct stackable cubic meter value.
How early should I book?
Depending upon the situation and month you want to book, 2 weeks is an optimal notice time that should be given to the company so that they can keep truck and team ready to serve you. Early booking also gives some scope to avail discount.
How long does it take to move goods?
Again, this is determined by the area of uplift and delivery, the dates required as well as your needs. Do not hesitate to contact the company to know more.
How much does it costs to hire removal services?
The cost of relocation is an ultimate results of what has to be moved, from where to where you want to move, how big items to be removed and more. It is also dependent on whether you have made emergent booking or advance booking or the day of the week you chose for relocations. Weekends are little bit costly at some companies. However not all are same. If you are availing long term relocations then it is worthwhile to sell and dispose items that are not needed or seldom used as the cost of relocation gets higher with distance.
Is the price better to be counted on distance basis or space basis?
Short term distance and local removals are usually calculated on hourly basis by most of the companies but there are companies that prefer calculation on cubic meter basis. Long distance removals should be preferred to be counted on distance basis.
What if my shipment is very small?
No problems, no job is too large or to small when it comes to relocation services.
What is a backload?
A backload is the process of using space available on vehicle generally on the return trip, which otherwise would have been empty. This gives the furniture removaists with return load trip making it worthwhile. At the same time, you can grab the discounts on the cost of return as well.
When is the best time to move?
This is totally dependent on personal circumstance. Most of the companies run offer throughout the year but weekends and festivals are quite busy time period and not a very much good time to move. Just make booking in advance to keep away from headache.
CBD Movers Perth Rating